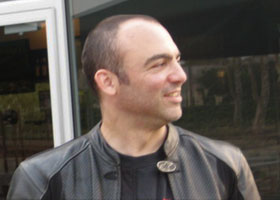 As an artist, designer and developer I am personally involved in the progression of communications technology. My love for new technology and my overwhelming urge to tinker drew me to the world of the Internet. What started as distracting hobby eventually grew into a career that combined technology, art and the thrill of working in a rapidly advancing field.
For the past 14 years I have enjoyed designing and developing web sites and the dynamic structures that make them work. My fascination for the sights, sounds and significance of the web has taken me through online technology conference planning, tech-related publishing, biotechnology, massively multiplayer online games, commercial internet services, and dismantling and rebuilding several of my home computers to make them better... faster... stronger.
In the future, I look forward to being involved in the progression of the way we all interact with one another and hope to be poised precariously on the edge of whatever emerging technologies come down the series of tubes we all call "teh Intarnewts."